Our dental and plastic surgery hospital in Thailand serves thousands of overseas patients annually, filling an important niche in plastic surgery, cosmetics and beauty services and being of an international standard hospital. The hospital has a Hospital Accreditation (HA) within Thailand and Joint Commission International (JCI) which is an American International accreditation scheme.
Their doctors have excellent training backgrounds reinforced by years of experience and thousands of procedures performed.
They offer a wide range of plastic surgery: breast augmentation, breast lift, facelift, neck lift, tummy-tuck, liposuction, arm lift, botox injections and hair transplants.  The dental centre offers a full range of dental treatment: dental implants, crowns, veneers, root canal treatment, teeth whitening. The cosmetic tattooing offered at the hospital includes eyebrow tattooing and eyeliner tattooing. This is done under IV sedation by a doctor meaning – no pain. How fantastic is that? And it only takes about 30 minutes.  So if you want to have a whole makeover, our hospital is a "one-stop shop" for beauty.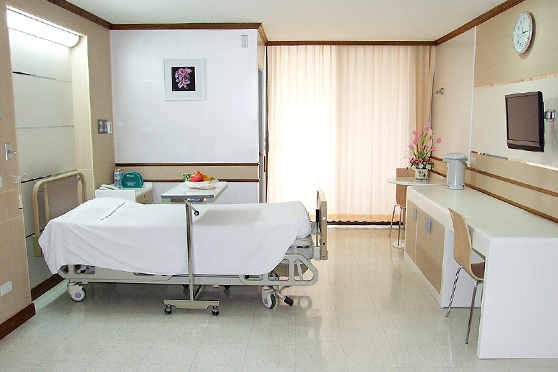 Standard Hospital Room  for plastic surgery patients